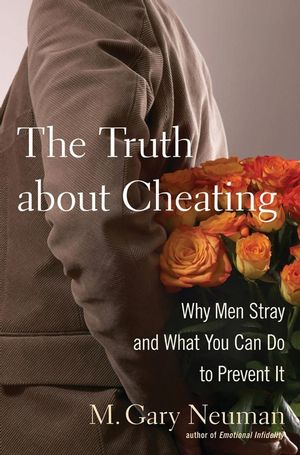 just a heads up- i tried to lace this post with as many links as i could.
marriage counselor
M. Gary Neuman
went on oprah talking about his book The Truth About Cheating and he talked about the reasons men gave as to why they cheated. the majority of men cheated because there was something missing in their relationship... that they didn't feel appreciated etc. he emphasizes that most men aren't cheating for the sex... then he gives examples of things wives can do to prevent they're men from straying....
a lot of women freaked out saying he was 'blaming women' for men cheating and a lot of them said it is just about the sex. .. this really chapped my ass as i like to say, because it just shocks me that women would first of all feel better about putting the opposite sex in a category where they are feeling-less pigs than understanding that they themselves could have had a part in driving their husbands away and learning how to change that and become better
partners
. i dont think cheating is excusable, but i refuse to accept this idea that the woman that a cheating man is married to has NO responsibility in the relationship getting to the point where a husband would even think about cheating. that's ridiculous. gary talks about the fact that there are definitely men who cheat because they want to and those are the guys who show no remorse.... but that these are not the majority of the men who do cheat... the majority are men who are normal guys, work all day long take care of their family and want to feel appreciated for that.... and any person who is not appreciated or understood long enough could be easily tempted to make a mistake or do something otherwise out of their character.... i think its soooooo good that he's trying to teach women what men need, its not about who's fault the cheating is, because yes in the end its always the one who cheats fault that they actually took action, but its about giving your partner what they need so they dont get alienated over time. ... because in a lot of cases that leads to a terrible mistake. lets fix it before it happens is what he is trying to say and if we want to do that then we have to create healthy marriages where partners feel appreciated by each other.. and he only talked about men that day but he is writing a book about why women cheat too. anyway. it just makes me annoyed that so many women can't focus on the whole point of what he's saying, that our men need our approval and our appreciation just as much as we need theirs and if they dont have it they might look elsewhere for it, because they're human. like us. the thing is too that most the women who are angered by it are women who have been cheated on, but its like.... can they really not see that that is just the heart speaking from bitterness? not wanting to admit that things you did lead him to that place? take the advice and make your next relationship better, healthy...
when you're in a relationship you are never alone, everything they do affects you and everything you do affects them. men are not just mindless
pigs
who only follow their dicks.... and to make them out to be such only shows weakness on our part ladies... and obviously further proves the point that if we think that way our men will be misunderstood and left to find that understanding and appreciation somewhere else.
and really was it that big of surprise to know that men need that continuous approval and appreciation for the things they do day in and day out like all people do?
----Although Gary discusses how wives of cheaters can factor into affairs, he says he wrote the book to empower women. "It's not about blaming the wife. It can't be. I mean, cheating is ridiculous. It's wrong. And you can't justify it," Gary says. "My book is about one thing. It's really about empowering women. If I can give you knowledge that says that I could have proof that if you do certain things, you can lead your relationship to a better place, that will be much better for you as well because it's not just about stopping tragedy. It's about building a much more mutually beneficial relationship."----- if this doesn't make sense to you and you're in a relationship, the relationship probably isnt as healthy as you think....
its weird that people dont think this way to me, i feel like if seth cheated i would definitely be pissed but i would know i had a part in getting him to that point. his fault in it would be the action he took after feeling the way he did, my fault in it would be the things i did to make him feel the way he did. that doesn't seem crazy or hard to understand to me, it seems like duh... that's what relationships are all about. i'm here to make seth happy and feel the best he can, to make him feel like he has value and worth and that he's going into work every day for a reason, a good reason... and he is here to do the same... thats how people survive and its not just in marriage, people thrive off of feeling important and appreciated, so when they dont it doesn't seem illogical to expect them to do
irrational
things to feel important and appreciated. that doesnt make those irrational actions right, but its a lot more complicated than just right and wrong.
i certainly think there are guys who cheat cause they are
idiots
.... but most men aren't just idiots and i feel like women make them out to be a lot and i dont like it.
anyway did any ladies see that show? and what did you think of what he had to say?
for that matter did any guys see that show? or have something to say on this subject?
i pretty much always love what rabbi's have to say... above any other religious leader i've heard from, i respect them. another awesome rabbi with super good advice that i love is
rabbi shmuley boteach
.
i used to watch him on
shalom in the home
. awesome.
what these rabbi's have to say is what our society needs because our marriages and our family's have taken a
dive of death
.